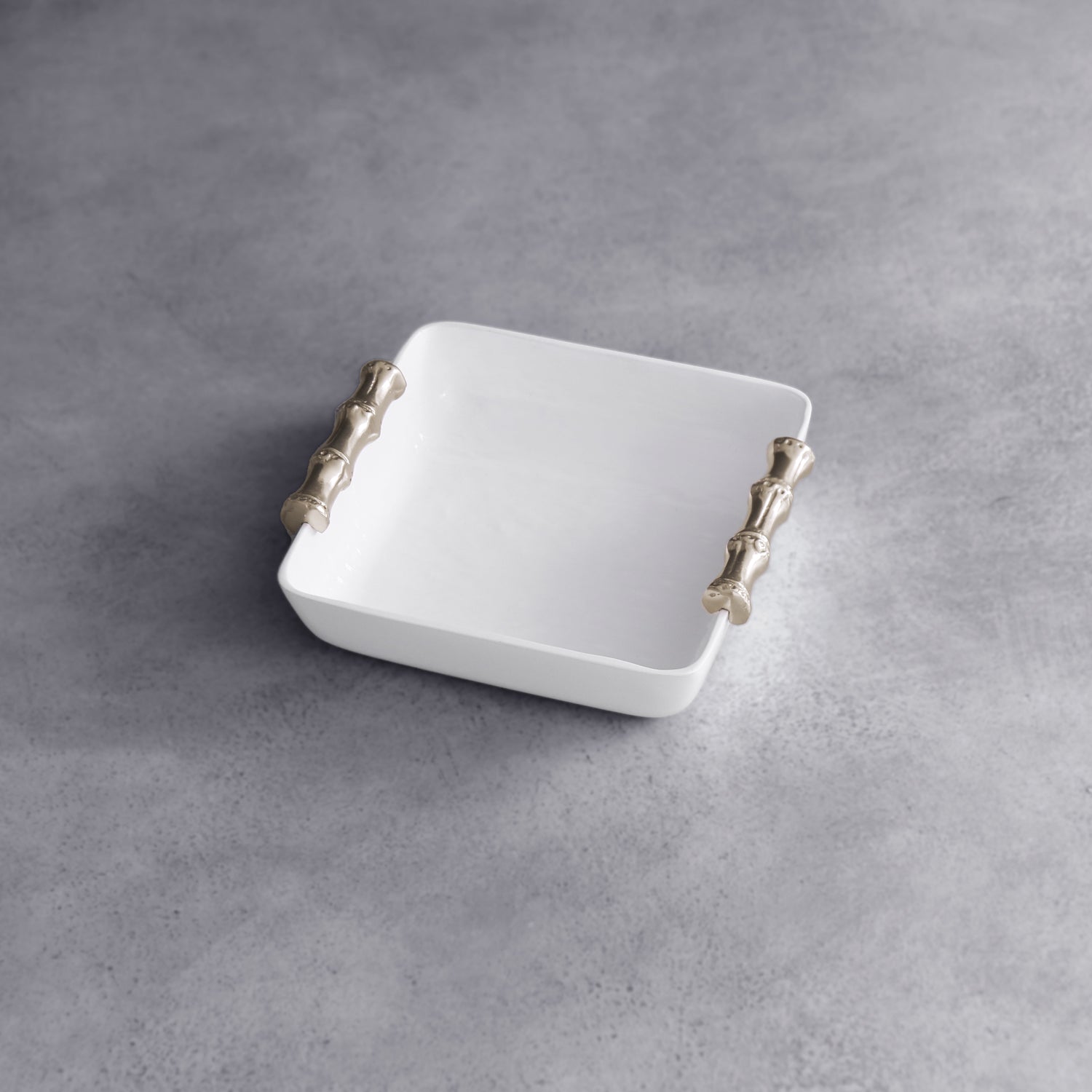 Thanni Bamboo Beverage Napkin Holder
Description
The THANNI Bamboo Beverage Napkin Holder (White and Gold) is a handsome, multi-use napkin box in classic Bamboo style! From the THANNI Collection, this "Not Just for Napkins" box is beautifully finished in a white enamel on the inside and outside, and can be used to hold candies, nuts, perfume bottles, paperclips, keys … and even napkins! With gold-tone handles inspired by natural bamboo, each includes six elegant, hemstitched linen coasters. Holds 5 x 5 (folded) beverage or cocktail napkins. Blends nicely with all the great Bamboo designs, so create a table with a carefree and classy, Beatriz Ball twist! You will not believe that the finishes are so sturdy that they can go even in commercial dishwashers! An original Beatriz Ball design, sustainably handmade of a top quality, FDA safe, easy-care, oven and freezer friendly aluminum alloy.
How will Lou & Company know what sorority the recipient pledges on bid day?
Lou & Company is a University of Alabama approved vendor. We receive the master new member sorority list for all students on Bid Day from the university. From there, we fill each package with items matching the recipients sorority.
Where is the gift delivered?
Lou & Company will deliver Bid Day gifts directly to the sorority houses. The University of Alabama does not allow ANY deliveries on Bid Day. Each sorority has designated a specific time and date for Bid Day gift deliveries. The delivery schedule will be posted on our website as soon as Panhellenic releases the schedule. Deliveries begin the day after Bid Day with all packages ordered before Bid Day being delivered before Wednesday August 24th.
How will the recipient know the gift has been delivered?
The sorority house managers will notify new members bid day gifts have been delivered to the sorority house. We will leave the sorority house managers with a list of all gifts and recipient info for them to sign.
Can I add an additional item to a bid day gift?
Yes, you can add any item to your bid day gift. Add the item to your cart or list the item you would like to add in the notes at checkout and we will call you to make sure we have the order correct.
What happens if the recipient does not pledge a sorority?
If the recipient does not pledge a sorority you will receive a refund. We will need to be notified before Bid Day. Once the gifts are delivered to the sorority houses Lou & Company is not allowed back into the houses to retrieve gifts.
Thanni Bamboo Beverage Napkin Holder
This section doesn't currently include any content. Add content to this section using the sidebar.