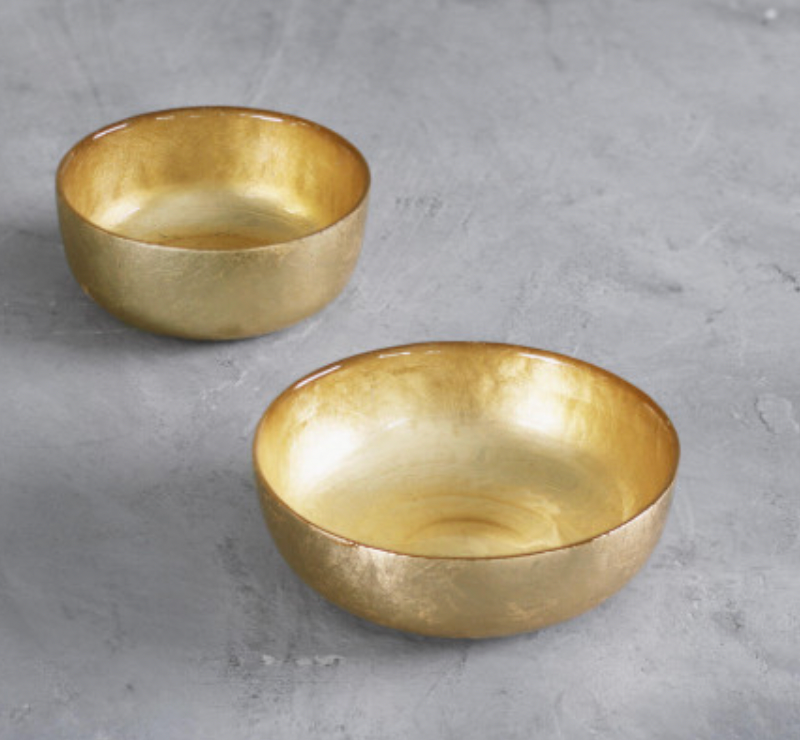 Beatriz Ball Shallow Bowls
Description
Beatriz Ball's New Orleans Glass Shallow Round Bowl Set includes shallower glass bowls with hand applied gold foil in two useful sizes. The vibrant and colorful New Orleans Collection represents a departure for Beatriz Ball, but upholds the company's championing of handmade traditions and artistry. With all the color and spirit of the Crescent City's unique culture, the New Orleans Round Shallow Bowl Set includes bowls in two sizes with hand applied gold foil is ideal for serving snacks and as home décor. Opulent and sophisticated, the New Orleans Collection adds a rich new dimension to Beatriz Ball's product mix. A touch of gold never gets old! Handmade in Turkey especially for Beatriz Ball; no two pieces exactly alike. Hand-finished glass; food safe. Do not put in oven, dishwasher or microwave. Delicate surfaces, hand wash carefully being especially careful with the back.
How will Lou & Company know what sorority the recipient pledges on bid day?
Lou & Company is a University of Alabama approved vendor. We receive the master new member sorority list for all students on Bid Day from the university. From there, we fill each package with items matching the recipients sorority.
Where is the gift delivered?
Lou & Company will deliver Bid Day gifts directly to the sorority houses. The University of Alabama does not allow ANY deliveries on Bid Day. Each sorority has designated a specific time and date for Bid Day gift deliveries. The delivery schedule will be posted on our website as soon as Panhellenic releases the schedule. Deliveries begin the day after Bid Day with all packages ordered before Bid Day being delivered before Wednesday August 24th.
How will the recipient know the gift has been delivered?
The sorority house managers will notify new members bid day gifts have been delivered to the sorority house. We will leave the sorority house managers with a list of all gifts and recipient info for them to sign.
Can I add an additional item to a bid day gift?
Yes, you can add any item to your bid day gift. Add the item to your cart or list the item you would like to add in the notes at checkout and we will call you to make sure we have the order correct.
What happens if the recipient does not pledge a sorority?
If the recipient does not pledge a sorority you will receive a refund. We will need to be notified before Bid Day. Once the gifts are delivered to the sorority houses Lou & Company is not allowed back into the houses to retrieve gifts.
Beatriz Ball Shallow Bowls
This section doesn't currently include any content. Add content to this section using the sidebar.