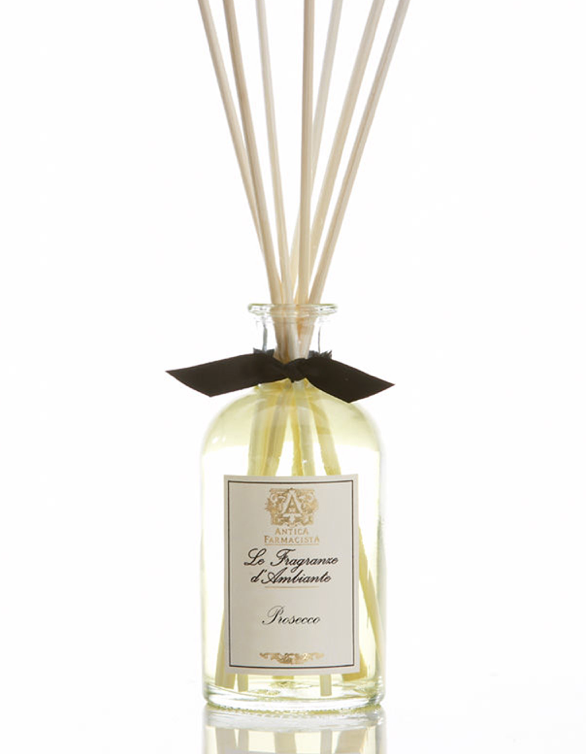 Antica Farmacista Diffuser
Description
The signature product in our collection. Utilizing apothecary inspired bottles filled with exquisite fragrance, the scent permeates the air via our signature reeds which are inserted into the bottle. The reeds absorb the fragrance and subtly distribute it throughout the air, providing lasting, beautiful scent. Customize the intensity by flipping the reeds — flip every day for more intense scent or once a week for more subtle fragrance.
Size 100ml
Acqua - Reminiscent of a delicate sea breeze, Aqua is a blend of Sweet Musk and the cool blue notes of Marine Algae. A light sophisticated fragrance, popular for those who prefer a light, sheer fragrance.
Fig Leaf - An earthy scent evoking a summer stroll through a sun-drenched grove of ripe fig trees. Tomato vine, fig leaf and basil enhance luscious notes of sweet fig, violet and Meyer lemon, while a powdery drydown of cedar, sandalwood and amber make this scent complex and alluring.
Hana Lei - A transportive floral fragrance, inspired by the classic Hawaiian Lei and the lush magnificence of the islands. Tuberose, gardenia and ginger flower lay the foundation, while notes of jasmine, warm musk and green oakmoss complete this iconic Hawaiian scent, evoking humid summer nights, beachside, enveloped in the warmth of the tropics.
Lush Palm - A lush green floral fragrance. Reflective of the exquisite natural beauty that exists just beyond the sea. Escape to a warm pacific breeze wafting through beachside Tahitian gardenia, dewy banana leaf and wind swept palms.

Prosecco - Our top selling scent. Top notes of Satsuma citrus balance with subtle floral notes of muguet. Apricot and passionfruit complement the sweetness of sugared black currant. A crisp scent celebrating the sparkling effervescence of Prosecco and Champagne.
Santorini -  A medley of crisp citrus and green notes artfully paired with exotic spice and natural wood essences. Top notes of vibrant Italian bergamot sweet verbena and fresh vetiver are enhanced by the subtle sweetness of rosewood, sandalwood and cardamom.
100 ml. 
How will Lou & Company know what sorority the recipient pledges on bid day?
Lou & Company is a University of Alabama approved vendor. We receive the master new member sorority list for all students on Bid Day from the university. From there, we fill each package with items matching the recipients sorority.
Where is the gift delivered?
Lou & Company will deliver Bid Day gifts directly to the sorority houses. The University of Alabama does not allow ANY deliveries on Bid Day. Each sorority has designated a specific time and date for Bid Day gift deliveries. The delivery schedule will be posted on our website as soon as Panhellenic releases the schedule. Deliveries begin the day after Bid Day with all packages ordered before Bid Day being delivered before Wednesday August 24th.
How will the recipient know the gift has been delivered?
The sorority house managers will notify new members bid day gifts have been delivered to the sorority house. We will leave the sorority house managers with a list of all gifts and recipient info for them to sign.
Can I add an additional item to a bid day gift?
Yes, you can add any item to your bid day gift. Add the item to your cart or list the item you would like to add in the notes at checkout and we will call you to make sure we have the order correct.
What happens if the recipient does not pledge a sorority?
If the recipient does not pledge a sorority you will receive a refund. We will need to be notified before Bid Day. Once the gifts are delivered to the sorority houses Lou & Company is not allowed back into the houses to retrieve gifts.
Antica Farmacista Diffuser
This section doesn't currently include any content. Add content to this section using the sidebar.